Dongtai teach you how to care for paste filling machine
Since paste filling machine for filling objects are generally those pasty viscous liquid, making clear the residual material would be more trouble. So, paste filling machine filling machine cleaning and maintenance become the most special one. Today, Dongtai teach you how to care for paste filling machine.
Cleaning paste filling machine filling product, be sure to conduct a comprehensive clean. Available woven soft cloth wipe dirt or grease cleaner, then wipe dry with a soft cloth and non-woven. Check the paste filling machine and material contact parts are clean and meet the corresponding requirements, if not you need to re-comply with cleaning and drying.
Below, we summarize a few points back Dongtai paste filling machine on care and maintenance:
1, regular checks pneumatic FRL combination of moisture air filter and lubricator (oil is not enough to prompt refueling; too much water, should be immediately removed).
2, the production process often view rotation and landing of mechanical components, to see whether an exception occurs, without loosening the screws.
3, regular checks of the ground contact paste filling machine reliability requirements, whether pneumatic pipe leaks, whether tracheal rupture, always clean the weighing platform.
4 every year to replace the motor reducer lubricant (grease), check the chain tension, adjust the tension.
5, paste filling machine cylinder at the factory plus a good lubrication, do not remove or add any oil cylinder.
6 hours of continuous operation 10 hours or less, to ensure cleanliness and cooling water pumps working properly, do not make the water appear spindle motor water shortages, regular replacement of cooling water to prevent the water temperature is too high. Winter temperature is too low if the work environment can be put into the water tank antifreeze.
Paste filling machine to create a good working environment in order to let it show the most perfect working condition! As long as you carefully protected it, give it the proper care, it must give you great returns. Lets you do more with less in the production process!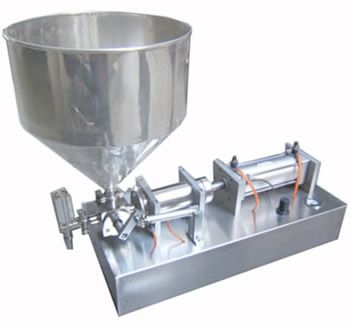 Dongtai machinery is a professional packaging machinery manufacturer. Provide the user the best solution, through long-term customer service has set up a perfect sales service system. Dongtai machinery is located in Lingang Economic Development Zone in Jinan, and the world 500 strong enterprises as neighbors continue to learn the international advanced production technology, relying on the country's economic macro-policy support, combined with local conditions to develop a series of advanced packaging machine products. Filling machine, labeling machine, filling and sealing machine, combination weighing packaging machine has entered the European markets. Uphold the QSP's business philosophy, quality-oriented, service first, we sincerely hope that users from around the world friends, build long-term, friendly, pleasant, mutually beneficial win-win partnership!