Welcome Customer From Egypt
11月10日, 埃及客户Ahmed先生亲自拜访济南东泰机械有限公司,正式与我公司就枕式包装机进行合作。
外贸部毕经理Elena和Diana带Ahmed先生参观工厂,首先对枕式包装机进行了介绍,并请工程师亲自讲解如何调试,安装机器,并仔细回答了Ahmed先生的疑问。随后,Ahmed先生还参观了灌装旋盖一体机和食用油灌装线,表示对此很有兴趣,未来有可能在此方面展开合作。
Ahmed先生表示,他对我公司的枕式包装机很满意,尤其是我司工作人员的专业和服务很满意。10号下午,Ahmed先生与我司签订了枕式包装机的合同。
济南东泰机械有限公司始终把服务和质量放在首位,为客户提供最专业的指导和解决方案。热烈欢迎外国客户朋友来访!
Egypt customer Mr. Ahemd visited Jinan Dongtai Machinery by himself and cooperate with our company on Pillow packing machine project on September 10th,2017.
Mr. Ahmed visited our factory guided by Foreign trade manager Elena bi and Diana Zhang, and was introduced pillow packing machine. In addition, our engineer showed how to debug and install machine and answered questions in details. Also, Mr. Ahmed was interested in filling capping machine and edible oil filling line and expressed that he will have further cooperation with our factory.
Mr. Ahmed said he not only satisfied with our machine but also touched by our stuff's professionalism and service. On 10th afternoon, Mr. Ahmed signed Sales Contract on pillow packing machine.
Jinan Dongtai Machinery Manufacturing. Co., Ltd always puts service and quality at the first place, and pursuits to provide most professional guidance and solution for customers. Welcome foreign customers and friends to our factory!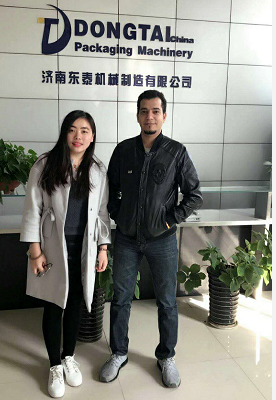 Dongtai machinery is a professional packaging machinery manufacturer. Provide the user the best solution, through long-term customer service has set up a perfect sales service system. Dongtai machinery is located in Lingang Economic Development Zone in Jinan, and the world 500 strong enterprises as neighbors continue to learn the international advanced production technology, relying on the country's economic macro-policy support, combined with local conditions to develop a series of advanced packaging machine products. Filling machine, labeling machine, filling and sealing machine, combination weighing packaging machine has entered the European markets. Uphold the QSP's business philosophy, quality-oriented, service first, we sincerely hope that users from around the world friends, build long-term, friendly, pleasant, mutually beneficial win-win partnership!