This well-known powder packaging machine always surprises you a little
Along with the market packing product unceasingly rich, we also in the powder packing unceasingly produces the high quality change. With the rich powder market, we know more colorful powder food. As people's demand for powder products increased, this also increased the demand for powder packaging machine, powder packaging machine type is more, more widely used, but we know how much about its price? The following is the advantage of dongtai machinery on powder packaging machine:
A. The machine is A machine, electricity, light, instrument in one, single-chip microcomputer control, with automatic quantitative, automatic filling, automatic adjustment of measurement error and other functions;

B. High speed: screw blanking and light control technology are adopted;

C. High accuracy: stepper motor and electronic weighing technology are adopted;

D. Wide packaging range: the same quantitative packaging machine can be adjusted and replaced with different specifications of feeding screw continuously within 5-5000g through the keyboard of electronic scale;

E. Wide application range: powder and granular materials with certain fluidity are acceptable;

F. Suitable for quantitative packaging of powder in bags, cans, bottles and other packaging containers;

G. Errors caused by changes in material proportion and material level can be tracked and corrected automatically;

H, photoelectric switch control, only manual bagging, bag mouth clean, easy to seal;

I. the parts in contact with materials are made of stainless steel, which is convenient to clean and prevents cross-contamination;

J. The feeding device can be configured to make it more convenient for users.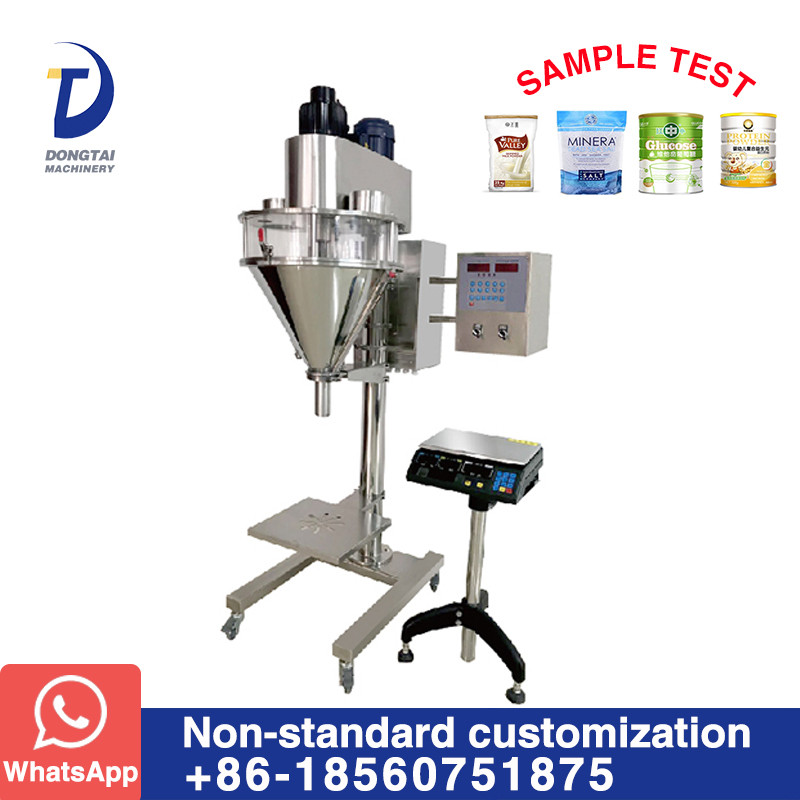 Dongtai powder packaging machine low price is known to all, the value of things is always the style of dongtai machinery, people who have used the equipment know, our powder packaging machine adopts imported material, quality assured. In order to keep pace with the development of The Times, meet the needs of consumers, constantly transform and accept new things, and fully apply the new knowledge learned to technical products. Launched a good powder packaging machine, the price is really, listed after the customer's affirmation, caused a great response in the industry! Dongtai to the market economy of high quality, high efficiency, high energy saving has to experience, I believe that the future economic development region prospects are better!