Why are more and more chili sauce filling machines and tomato filling machines entering the market?
Why are more and more chili sauce filling machine and tomato filling machine
entering the market?
Nowadays, more and more equipment is being put into the production of our daily necessities.
Among them, filling equipment brings more benefits to our lives. For the current state of life, we also
pay great attention to the quality of the product.For tomato filling machine and chili sauce filling
machine, it is now an indispensable device in our lives. Because its presence allows us to enjoy
delicious sauces for three meals a day. However, under the changes of society, we are now paying
more and more attention to the quality of our products, especially our daily necessities. The tomato
filling machine and the chili sauce filling machine are now the necessary equipment for daily use, so
how can we make it guarantee the quality of the product.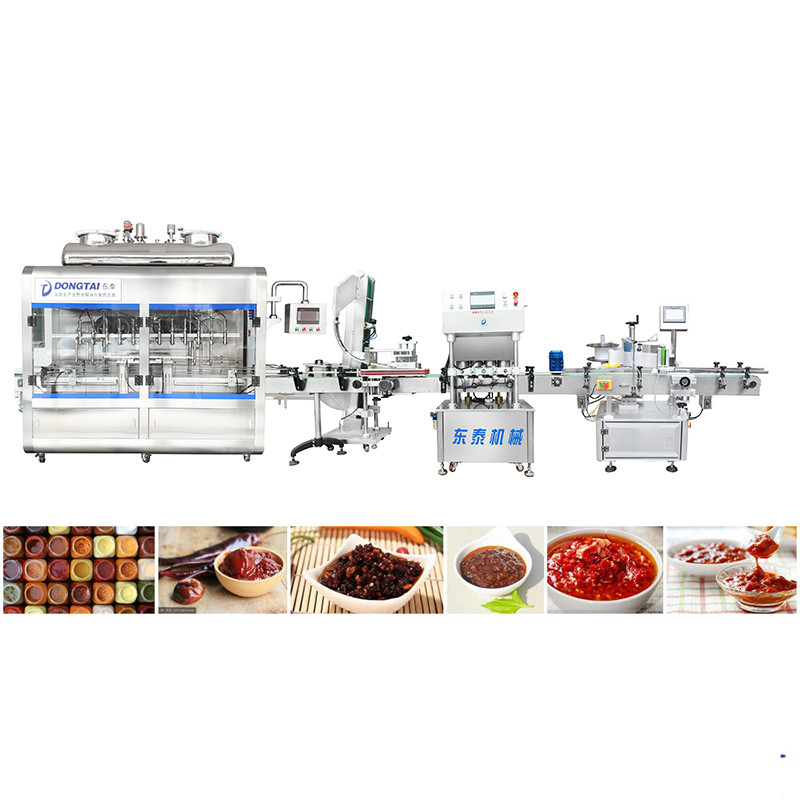 1. The chili sauce filling machine adopts a low-position liquid storage cylinder, which can realize CIP
cleaning in place, and the whole machine is easy to clean and disinfect.
2. The plunger pump filling system does not adsorb drugs, has good chemical stability, high
temperature resistance, corrosion resistance, wear resistance and long service life.
3. It adopts the components of advanced famous brands at home and abroad as the electrical
components of the machine itself, the quality is stable and reliable, and designed according to GMP
requirements
4. In the process of filling chili sauce and ketchup, in order to avoid inaccurate or misplaced bottles,
we specially designed the bottle position correction device to ensure smooth and stable filling
process.
It is because of these points that the tomato filling machine and the chili sauce filling machine are
widely used in people's lives.
Dongtai machinery is a professional packaging machinery manufacturer. Provide the user the best solution, through long-term customer service has set up a perfect sales service system. Dongtai machinery is located in Lingang Economic Development Zone in Jinan, and the world 500 strong enterprises as neighbors continue to learn the international advanced production technology, relying on the country's economic macro-policy support, combined with local conditions to develop a series of advanced packaging machine products. Filling machine, labeling machine, filling and sealing machine, combination weighing packaging machine has entered the European markets. Uphold the QSP's business philosophy, quality-oriented, service first, we sincerely hope that users from around the world friends, build long-term, friendly, pleasant, mutually beneficial win-win partnership!