Quality + service adds bargaining chips to the competition of hot sauce filling and capping machine
Regardless of the north and south, if you want to talk about the food artifacts when you eat, there will definitely be a place for chili sauce. As the number of people who eat chili sauce increases, the taste and variety of chili sauce on the market will naturally increase. For chili sauce manufacturers, the chili sauce filling and capping machine has naturally become one of the equipment with very fast growth. It can be said that the chili sauce filling and capping machine has been keeping up with the pace and becoming the hero behind the dazzling array of chili sauces on the market!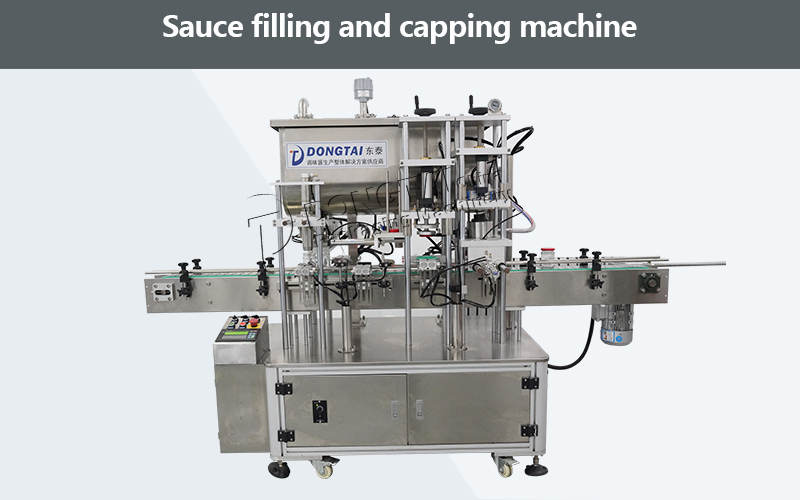 This chili sauce filling and capping machine is specially designed and developed by Dongtai Machinery for filling chili sauce, beef sauce, mushroom sauce and other products. It integrates bottle unscramble, filling, capping, and labeling. Automated manufacturing. The filling and capping integrated machine part uses a stainless steel plunger pump to perform filling, and its filling and capping capacity is very high, which realizes diversified production. Many customers have given high recognition after using it for a period of time!
   Chili sauce filling and capping machine market is the competition of equipment quality, but also the competition of service. Consumers finally choose us, in fact, to a large extent depends on the after-sales service; you can enjoy the following services when purchasing a chili sauce filling and capping machine from our Dongtai Machinery:
1. Free installation and commissioning service: After purchasing the chili sauce filling and capping machine, we will arrange relevant technical personnel to install and debug on site before officially handing it over to the customer.
2. Free training service: After the equipment is debugged, as a manufacturer, the performance of the equipment and operation precautions are not well understood. Our technicians will train the relevant operators until they can operate the equipment correctly and run normally.
3. One-year warranty service: any equipment will have malfunctions. From the date of the commissioning of the chili sauce filling and capping machine, any non-artificial damage will be guaranteed for one year free of charge.
4. Nationwide warranty service: We will contact the relevant service personnel for you as soon as possible, and will not delay time due to distance or delay your production!
Over the years, Dongtai chili sauce filling and capping machine has won a lot of praise. I believe that under our strong strength, Dongtai's equipment will become more and more popular with its ex