The five advantages of Dongtai tempeh hot sauce filling machine equipment highlight the market importance
Now our filling machine market is extremely complex, with many brands and large differences in quality. The diversification of types is not to say much. What is very prominent is the huge number, just like the population of our country. We can imagine this kind of market situation, its congestion is also more serious, which increases the product competitiveness of filling machinery. And for the tempeh hot sauce filling machine equipment, it highlights the importance. Why is Dongtai tempeh hot sauce filling machine equipment so important to the enterprise? Do not rush to continue to look at the unique advantages of this machine!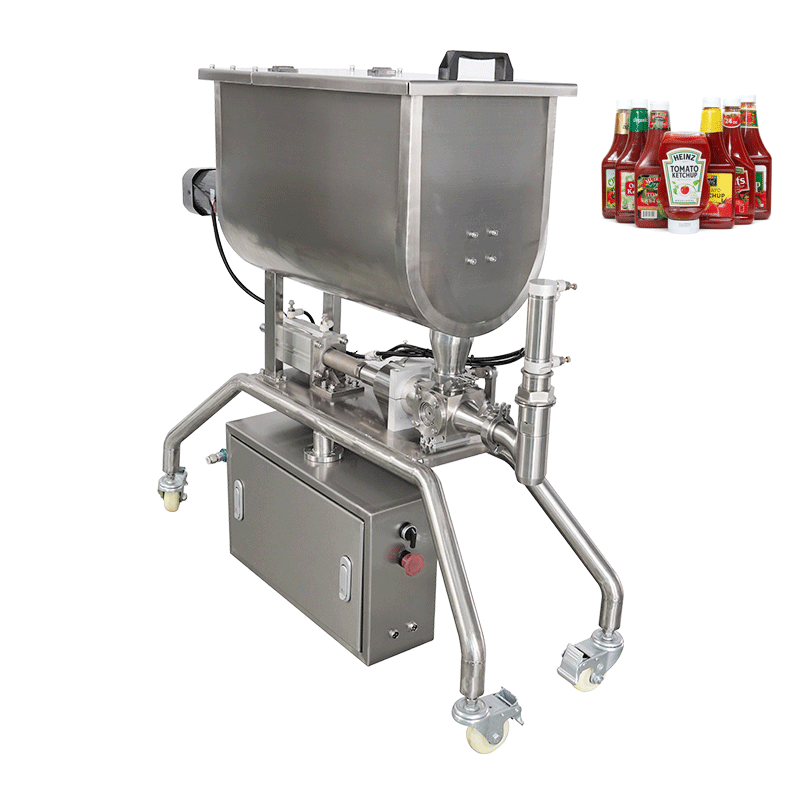 Features:
1. Quick cleaning, easy adjustment, stepless speed regulation of volume cylinder movement, suitable for filling different specifications and different materials. The filling volume is adjusted at one time, and each volume cylinder can be adjusted separately, with high filling accuracy and good consistency. The materials in contact with the materials are 316 stainless steel, silicone rubber, which conforms to QS specifications.
2. Imported deceleration motor stepless speed regulation control filling plunger cylinder, not only suitable for various pastes, but also for liquids.
3. The imported electromagnetic clutch and electromagnetic brake work together to eliminate inertia and high filling accuracy.
4. The man-machine interface communicates with PLC, debugging equipment or changing varieties only needs to be set on the screen. Bottle feeding, positioning, filling and discharging are all automatic operations.
5. The equipment will automatically protect when the bottle is not in place during filling, or the bottle is clogged and the live liquid tube is not inserted into the bottle, and the operation will continue after the removal.
Having seen the above advantages, the quality of Dongtai tempeh hot sauce filling machine equipment is quite good. Dongtai has been continuously engaged in the study of Dongtai technology in combination with actual production in the more than ten years from its establishment to the present establishment. And research, so many of the filling machines produced by Dongtai have their own unique characteristics, and they are quite sophisticated in the materials, technology and design of the tempeh hot sauce filling machine equipment, so that the output These filling machines can make people look comfortable and use them at ease. After corresponding research, Dongtai's tempeh sauce filling machine equipment in the filling machine market can be said to be at the forefront of the industry. Many consumers are optimistic about the Dongtai brand when buying, not only because of Dongtai filling The main effect of the installed brand is the real feelings and feedback from many customers during the use process. There is also the ingenious design of the Dongtai tempeh hot sauce filling machine equipment, and the careful consideration of the customers that it uses, so Dongtai can occupy a very important position in the filling machine market.