Magnetic Pump Perfume Filling Machine, Liquid Filling Machine
| | |
| --- | --- |
| Categories | View all custom machinery |
| Album | View larger image |
| Brand | DONGTAI |
| Model | SF-II |
| Voltage | AC 220V /±5% |
| Power | 40w |
| Weight | 14kg |
| Error | ±1.5% |
| Size | 410×330×270(mm) |
| Large flow / single pump | >1.44L/min |
| FOB port | Qingdao |
| Terms of Payment | L/C, D/A, D/P, Western Union, MoneyGram, T/T, Paypal |
| Update Time | 2019-01-19 |
Magnetic Pump Perfume Filling Machine, Liquid Filling Machine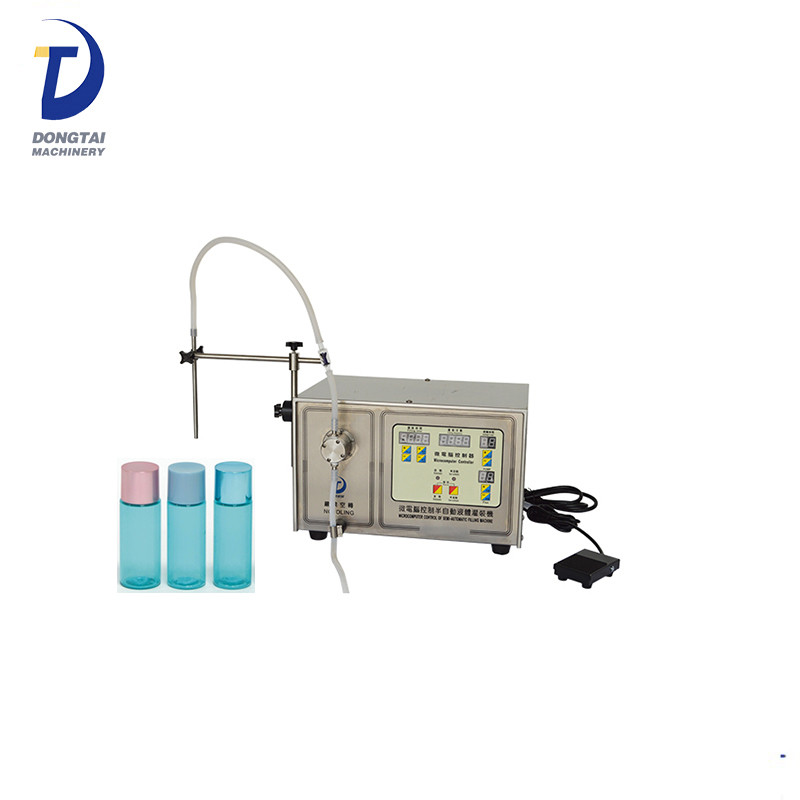 Product introduce:
 The magnetic pump liquid filling machine, also known as the small magnetic pump filling
machine, can fill a large type of liquid, including highly viscous liquids. Such as: a variety
of pharmaceuticals, chemicals, oils, cosmetics, food and other non-particulate liquid; high
filling accuracy, suitable for laboratory use.
Principle and characteristics of magnetic pump filling machine: 
1 This magnetic pump filling machine is a best-selling product in liquid filling machine. It
adopts world brand frequency converter, imported high-precision multi-turn potentiometer
and lockable dial, which makes the flow regulation stable and accurate, and the error is
negative. Less than 0.5%, positive deviation is less than 1.5%.
2 Japan imported magnetic gear stainless steel pump, reliable quality and long life;
3 stainless steel chassis, durable;
4 small in size and easy to operate;
5 cleaning and cleaning is convenient;
6 Full-featured, automatic manual. Can be used with the assembly line;
7 can be equipped with multiple filling heads, commonly used models are: single pump,
double pump and four pump;
8 Filling amount SF-II can be adjusted from 1ml to 10000ml; SF-I can be adjusted from
10ml to 80,000ml, which is convenient to adjust.
Magnetic pump liquid filling machine use precautions:
1.Check the magnetic pump liquid power supply voltage 220 (±5%) frequency, 50Hz/60Hz
(±5%) AC power supply, correctly use the customer-defined fuse, the power cord must be
removed before installing the fuse;
2.To avoid personal injury, please use the local AC power socket, the power plug should
be in good contact. Otherwise it is easy to damage the filling machine;
3.The liquid filling machine should be placed in a place with low ventilation and dryness,
and the distance between the horizontal placement and the wall or other objects should be
greater than 20CM to ensure normal ventilation;
4.check valve must be vertically downward, otherwise it will affect the accuracy;
5.The magnetic pump filling machine must be vertically downward, otherwise there will be
dripping phenomenon;
6.The bending angle of the pipeline is not suitable for small people, which affects the flow
and accuracy of the filling of the magnetic pump filling machine;
7.The level of the raw material tank should not be too different, otherwise it will affect the
accuracy of the magnetic pump liquid filling machine;
8.Volatile liquids should be used in a circulating air environment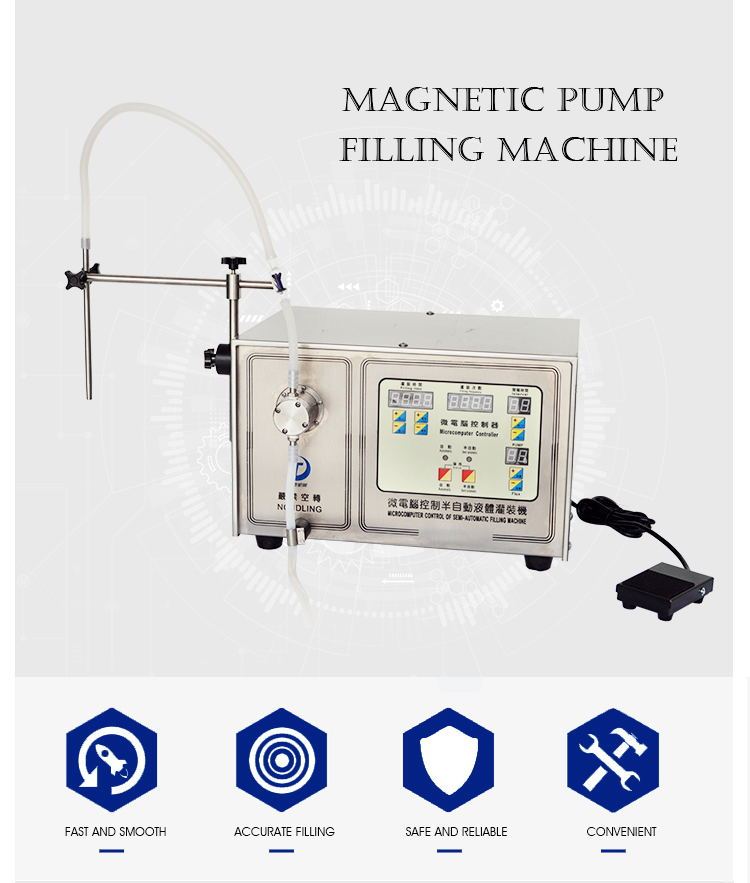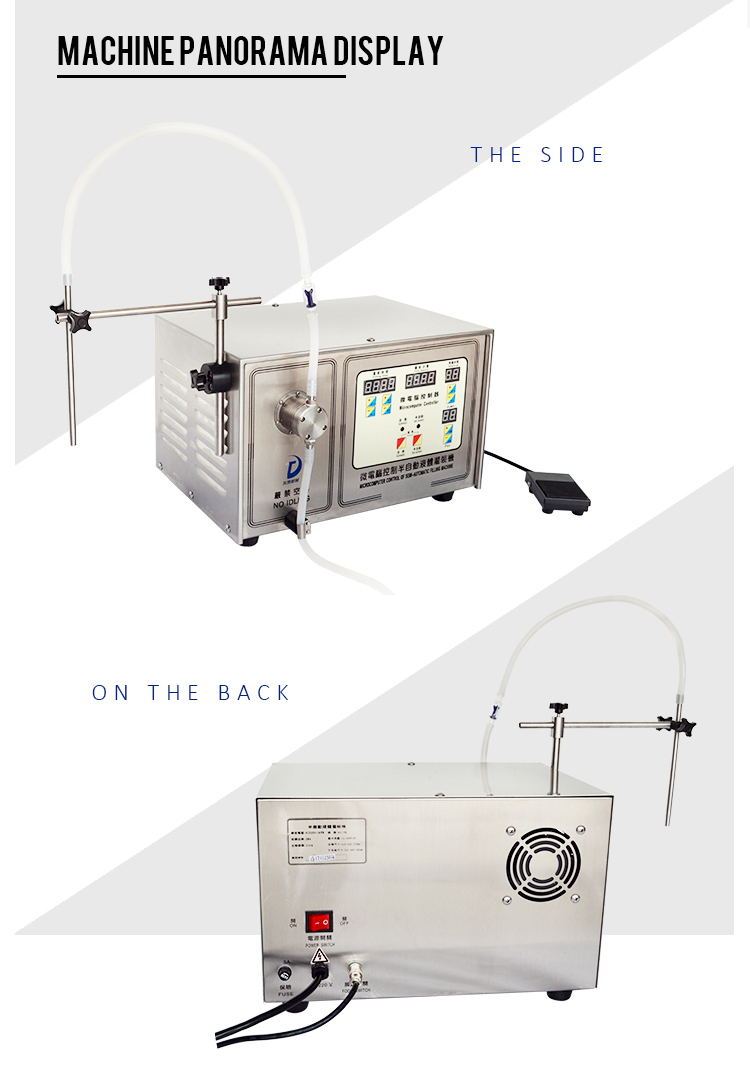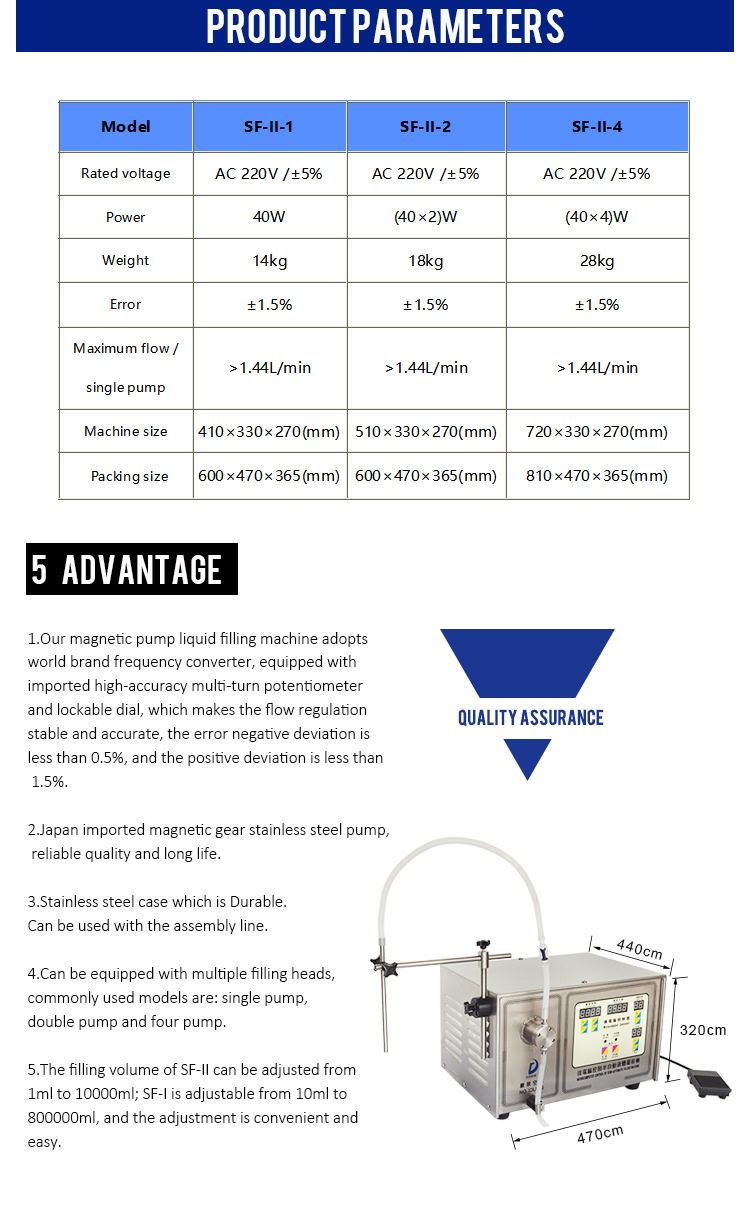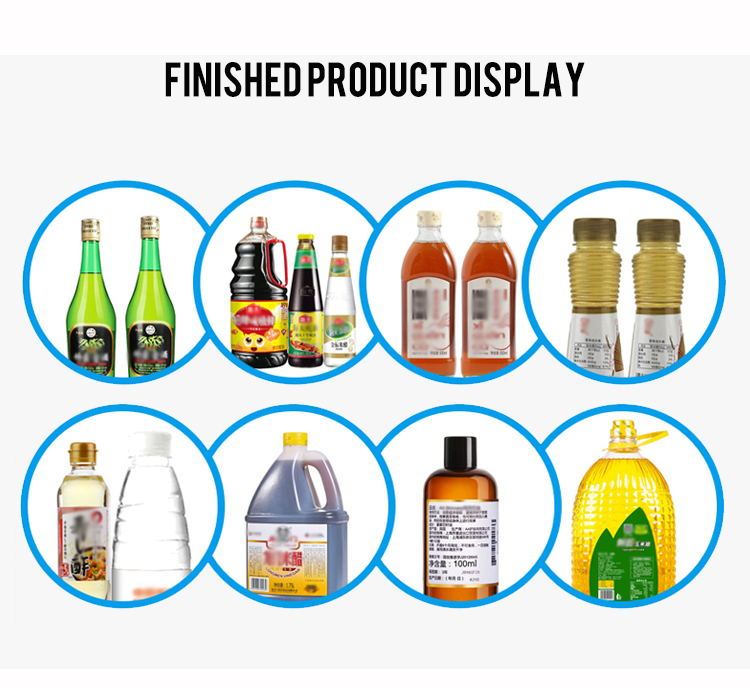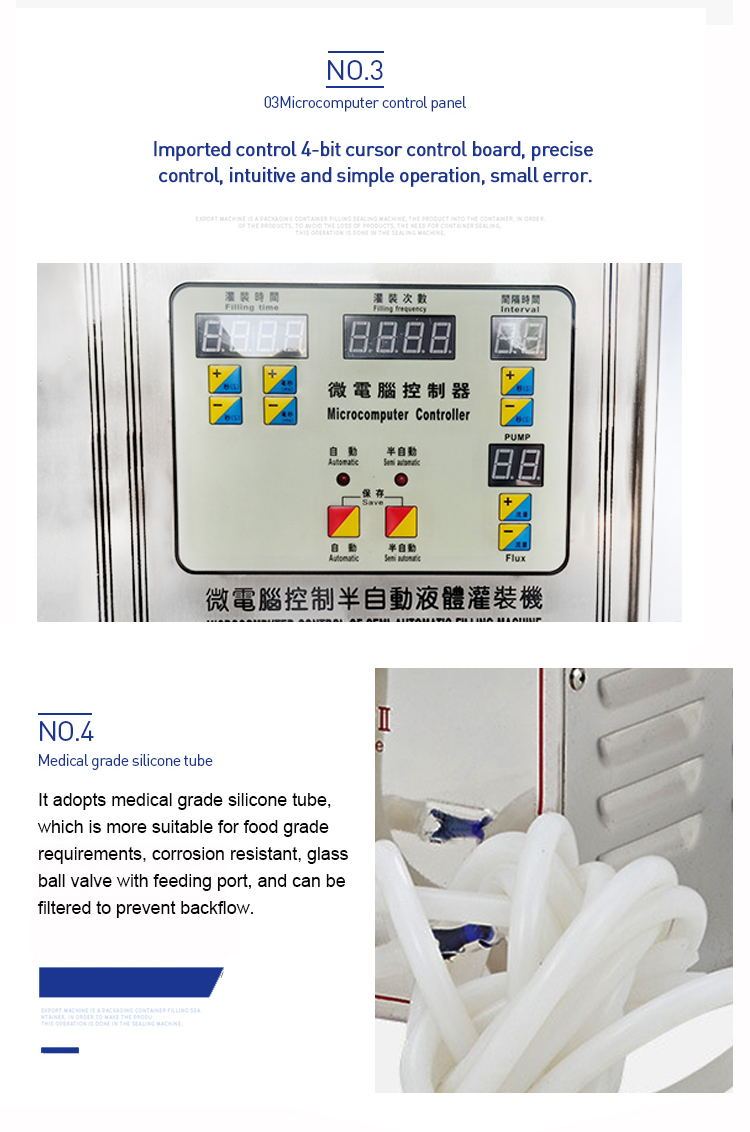 Q: How long will take for the delivery of product?
A: 7 days for standard model, if machine in stock, will delivery immediately, customized
model depend on customer requirements, usually about 15-30 days.
Q:  What's the insurance of after-sale service after purchase?
A: All our products, will be totally tested by QC department before delivery, with strict
quality control process. The product is cost-effective during use, stable and reliable.
One year warranty service for all machine, please feel free to contact us if you have any
questions.

Q:   When the machine arrives at the work site, is it easy to install? How to
solve the problem of quick installation and use?
A: All machine model with installation video, to show the installation process more
intuitively, and we will provide remote video technical support to solve your doubts and
ensure that your installation is correct.
Install video URL:  https://www.facebook.com/groups/1644623782523083/
 https://www.youtube.com/channel/UC_wUu5QTxgZsfGRzgxxK29w?view_as=subscriber
(FOLLOW US ON YOUTUBE, TO SEE MORE ABOUT US)
After-sales appointment installation service phone :    
+8618560751875      86-531-88168830      engineer Zhang
Q:  During the use of the machine, how to get after-sale service?
A: We have professional foreign installation and commissioning engineers, which have
many years of experience in foreign debugging with deeply recognized by customers. We
will provide on-site installation and commissioning services for foreign customers, and we
will guide your workers directly.
Q:  Will the accessories change frequently with machine ?
A: The service life of the accessories is related to the daily maintenance. When ordering,
we will give you free wearing parts and provide you with daily maintenance strategies.
Please send your message to us
*
We will reply your inquiry to this Email as soon as we see it
Dongtai machinery is a professional packaging machinery manufacturer. Provide the user the best solution, through long-term customer service has set up a perfect sales service system. Dongtai machinery is located in Lingang Economic Development Zone in Jinan, and the world 500 strong enterprises as neighbors continue to learn the international advanced production technology, relying on the country's economic macro-policy support, combined with local conditions to develop a series of advanced packaging machine products. Filling machine, labeling machine, filling and sealing machine, combination weighing packaging machine has entered the European markets. Uphold the QSP's business philosophy, quality-oriented, service first, we sincerely hope that users from around the world friends, build long-term, friendly, pleasant, mutually beneficial win-win partnership!
Subscribe To Our Mailing List